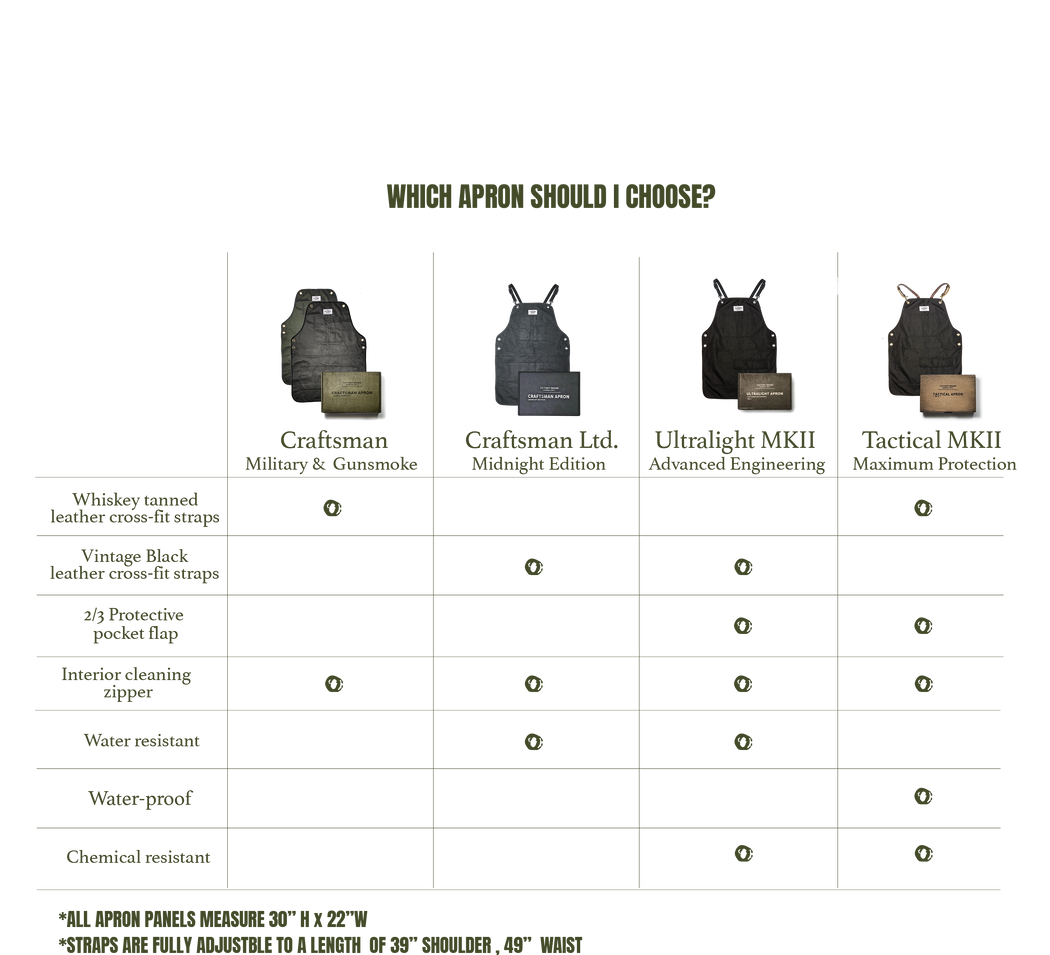 ULTRALIGHT APRON MKII
Material
This chemical resistant apron boasts half the weight of previous tactical apron models with increased breathability thanks to a one-way transfer moisture barrier. The ultralight is a premium performance apron that is perfect for colorists, hairstylists, or barbers who want maximum protection with minimal impedance.
Features
50% lighter than the TACTICAL APRON.
Ultra high performance lightweight material provides a mid - high level of protection and breathability.
BLACK Double riveted fully adjustable leather straps for ideal comfort and fit.
Reinforced double grommet design for superior strength and fit.
Gunmetal finished hardware.
Single piece seamless construction for maximum durability.
Intelligent 7 pocket design.
Concealed interior zipper for easy cleaning.
Teflon coating for increased water resistance and protection.
Cleaning instructions: DO NOT MACHINE WASH – remove debris with a stiff brush and hand wash with a cloth and light detergent. Lay flat or hang to dry. DO NOT TUMBLE DRY placing apron in the dryer will damage the protective coating on the inside of the apron. REMOVE ALL LEATHER STRAPS BEFORE WASHING! Washing leather will damage the straps and warranty will be voided.
Fit: See fitting video for strap adjustments.
Size: 23w x 30h
Guelph Street Barber - Georgetown ONT
Everyone at the barbershop wears VICTORY. We hired an apprentice. So I made him buy one with me (I needed a new one). We are all super happy with our products.
Excellent
Great quality no need to buy anything else
Amazing quality love it!!!!
Ultralight Apron
This Apron is part of our student's kit and is a favorite of both our students and our instructors who wear them daily. It is the Bomb!
Super love my ultralight MKII
I received my order really quickly and got to use it right away. I chose it for it's chemical resistance since I mainly do blonding services and I'm not the cleanist artist in the room. Yes it's still new but it looks like I just pulled it out of the box (I had it COVERED in lightener and you'd never know after a quick clean).
I would love more colour options for different outfits but that's just me being nitpicky.
It's super comfy and very adjustable.
10/10 will order again (but, like hopefully not for a while cause I want this to last)